Skip to Content
A Speciality Care Center
The practice is a specialty care center designed to provide individual quality care for our patients who undergo diagnostic gastrointestinal endoscopy without regard to race, color, religion, sex, national origin, or physical or mental disabilities. Our physicians and nurses are committed to provide you with a safe, comfortable, and caring environment to meet your health needs in the diagnosis and treatment of gastrointestinal problems.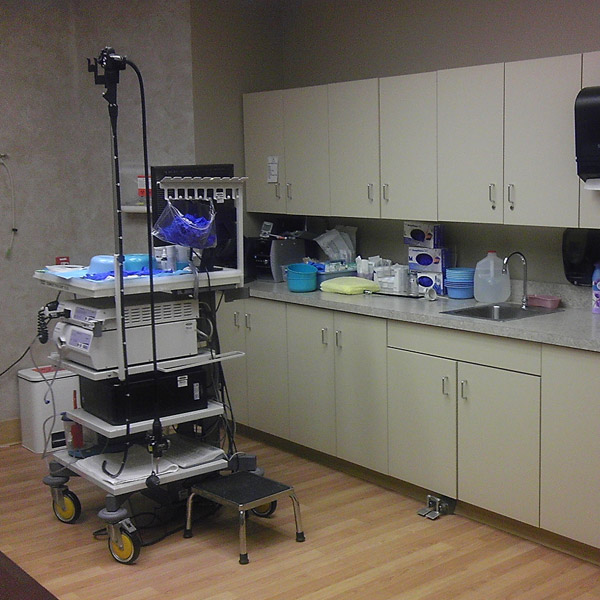 Before Your Endoscopy Procedure
Please follow the preparation instructions provided to you by our office, not the instructions on the box of preparation.
Unless otherwise instructed, you should not take anything by mouth after midnight on the night prior to your procedure.
Bring a list of your current medications and allergies and reactions.
Bring your insurance card and a photo ID.
Please be sure to fill out all the requested paperwork before your arrival as this may cause a delay in your appointment time if it is not filled out.
Please leave all jewelry, money, and other valuables at home or with your family.
Please arrange to have a driver who can stay in the office during your time here and drive you home following the procedure. Due to the medication you will receive for sedation during the procedure, you should not drive, drink alcohol, or sign any important papers for the remainder of the day. You will be fine to resume you normal routine the following day.
After Your Arrival
Please notify the receptionist of your arrival. Your insurance card and photo ID will be scanned into our secure EMR system and returned to you.
Please notify the receptionist of any changes to your insurance, address, or phone number at this time.
Be sure to bring your completed paperwork required for your procedure.
A nurse will talk with you about your prep and health status prior to your procedure. The nurse will record your vital signs, medications, allergies, and any other pertinent patient information.
You will be given medication through an IV to sedate you for the procedure.
Dentures and/or partial plates will be removed prior to your procedure.
Your driver will be asked to wait in their car or in our larger waiting room. Please be sure your driver understands that they must be present on the premises during your stay at our facility due to the anesthesia you will receive. Drivers who leave can delay your procedure start time.
After Your Procedure
Once your procedure is completed, you will be returned to your room for recovery. You will be cared for by a nurse who will monitor your vital signs and how you are feeling following the procedure.
Your family member or driver will be brought back to your room to sit with you as you recover, if you approve.
When you are alert and awake, the physician will come in and speak with you about what was found, if anything, and if he took a biopsy and/or polyp. The physician will also provide you with verbal discharge instruction. The nurse will provide you with written discharge instructions and also a medicine reconciliation form in case the physician has ordered a change in your medications.
If you have a polyp removed or a biopsy taken, it will take between 7-14 days for your results to return. You can call in to the office or request your results through the patient portal.
If you experience any problems after you return home, please call us at 330-493-1480.
Contact Our Office Today
Our endoscopy center is open 6:30 am to 3:30 pm Monday through Friday. Please feel free to contact the office with any questions between the hours of 8:30 am and noon and 1:30 pm and 4:30 pm
If you have an emergency after hours, please call 330-493-1480 and the answering service will contact the physician on call for your assistance.
If for some reason you will not be able to keep your appointment for endoscopy, please notify us as soon as possible. There is a $150 charge for canceling your appointment with a less than 48 hour notice or not showing up for your appointment.